The tallest man and the shortest woman on earth at least according to the Guinness World Records, met last Friday for a photo shoot at Egypt's famous Giza Pyramids.
Sultan Kösen, from Turkey, holds the world's tallest living man record with a height of 246.5 cm (8 feet 1 inch), while Jyoti Amge, from India, holds the Guinness title for world's shortest woman with only 62.8 cm (2 ft 06) tall.
The photo shoot produced incredible results as their difference in height became even more astonishing in close proximity. The mismatched pair was invited by the Egyptian Tourism Promotion Board to visit Cairo's most famous sites, in an attempt to help boost tourism in the country.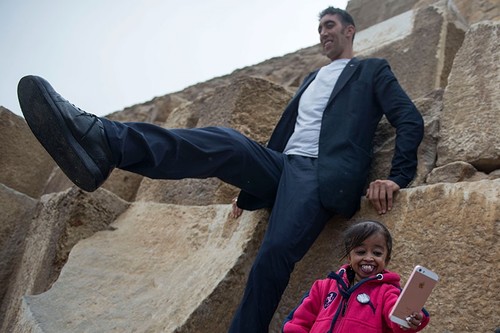 From this picture, Amge is barely bigger than Kösen's foot.
Amga literally looks like a doll compared to Sultan.
Sultan is also the proud owner of the world's biggest hands.
This officially makes me want to go to Egypt, how about you?